News & Updates
Find out about my latest offers, driving tips and news.
Browsing all articles in News & Updates
Know someone who's thinking of learning to drive? How about that 17-year-old who's always the hardest to buy for?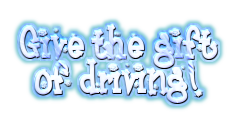 Christmas driving lesson gift vouchers make great gifts for teenagers or anyone else thinking about starting to learn to drive. If you're stuck for a great idea for a present, I now offer an affordable starter offer for only £99. The deal includes five one-hour driving lessons with pick-up and drop-off anywhere within the area I cover. All lessons are on a one-to-one basis with a fully-qualified (green badge) instructor in a new Toyota Yaris.
"Surprise! You drive."
To make the surprise extra special, I can arrange to turn up unannounced at the recipient's house to start their first lesson. If you want to do this, please make sure that they have their provisional licence on the day
Alternatively, I can post the voucher either to you or directly to the lucky learner.
What about the weather?
Don't worry about it. Learning to drive in all weathers is a valuable skill. My car is fitted with dual-controls so I'll make sure that we drive safely at all times. Should the weather take a turn for the worse, is there a better way to learn to drive in difficult conditions than with a qualified instructor sitting next to you?
The big day has finally arrived and, although you're eager to get behind the wheel, you're worried about your nerves getting the better of you. What can you do to give yourself the best chance of finally getting your driving licence?
1. Drive with the examiner like you do with your instructor
This might be easier said than done, but many pupils suddenly become overcautious and hesitant just because test day. If your instructor says you are at test standard, then you need to have faith in yourself and believe that you are. Don't try a different style of driving on the big day.
2. Ask a parent or trusted family member to join you on a lesson before your test
This will create the kind of pressure you will be under on test day and acclimatise you to the level of stress you can expect. Better still, get someone to sit in with you a few days before your test for some extra practice.
3. ANTICIPATE ANTICIPATE ANTICIPATE
With the experience gained in your driving lessons, your anticipation of hazards will have improved dramatically since your first day behind the wheel. Look well ahead and ask yourself WHAT IF? What if that child steps onto the road? What if that car does pull out? Anticipation is your most powerful weapon.
4. Keep busy
Keep your eyes busy. Look far ahead and check those mirrors regularly (say, every 6-8 seconds). Know what's going on around you so you don't get any surprises.
5. Make sure you understand the examiner's instructions
If not, then ask them to repeat the instruction. They don't want you to get lost — it means they won't have time for a cup of tea between tests!
And GOOD LUCK!
Even experienced drivers often find the prospect of driving on Britain's motorway daunting, especially during 'rush hour' or peak times at the weekend. Newly qualified drivers often have little experience driving on these roads as they aren't currently included in the UK test.
To help with this, I've recently started running a motorway confidence course in the Bradford area. The course will make use of the nearby M62 and M606 motorways to teach: safe entry and exit via motorway slip roads; forward planning; safe lane changing and overtaking; negotiating heavy traffic and defensive driving skills for busy conditions.
The course is ideally suited for new drivers or people who want to brush up on these skills and the total cost is only £90.
There has never been a better time to start learning to drive! The BBC has reported that "the fee for drivers applying for a provisional driving licence online will fall from £50 to £34" from 31st October.
New drivers need a provisional licence before they can start taking driving lessons so this is a significant reduction in the cost of getting started, especially when combined with my "5 for £99" offer.
Transport Minister Claire Perry said: "The cost of driving, especially for young drivers, can be significant and we are committed to cutting costs where we can."
"Thanks to DVLA making large scale savings to their running costs, we have been able to cut the cost of the driving licence which will save drivers and businesses £150 million over the next 10 years."
Ready to get started? Check out the standard lessons and intensive driving courses that I offer or get in touch for a chat.
You may have noticed that I've recently added information about the intensive driving courses that I offer. These are a great way to approach learning to drive if you need to pass rapidly. Combined with the "5 for £99" offer, you can learn to drive quickly for the same price as standard driving lessons.
Things look a little different on my site today. I hope you like the new look!
Random Testimonial
"Excellent driving instructor. I really recommend having Neil as an driving instructor. I had so many problems with my driving however Neil managed to fix them all without losing his temper which most instructors do. He's funny, enjoyable, and down to Earth… and I passed my first drivng test and that's all thanks to Neil. If it wasn't for him I wouldn't have done it."

~ Somera, Bradford